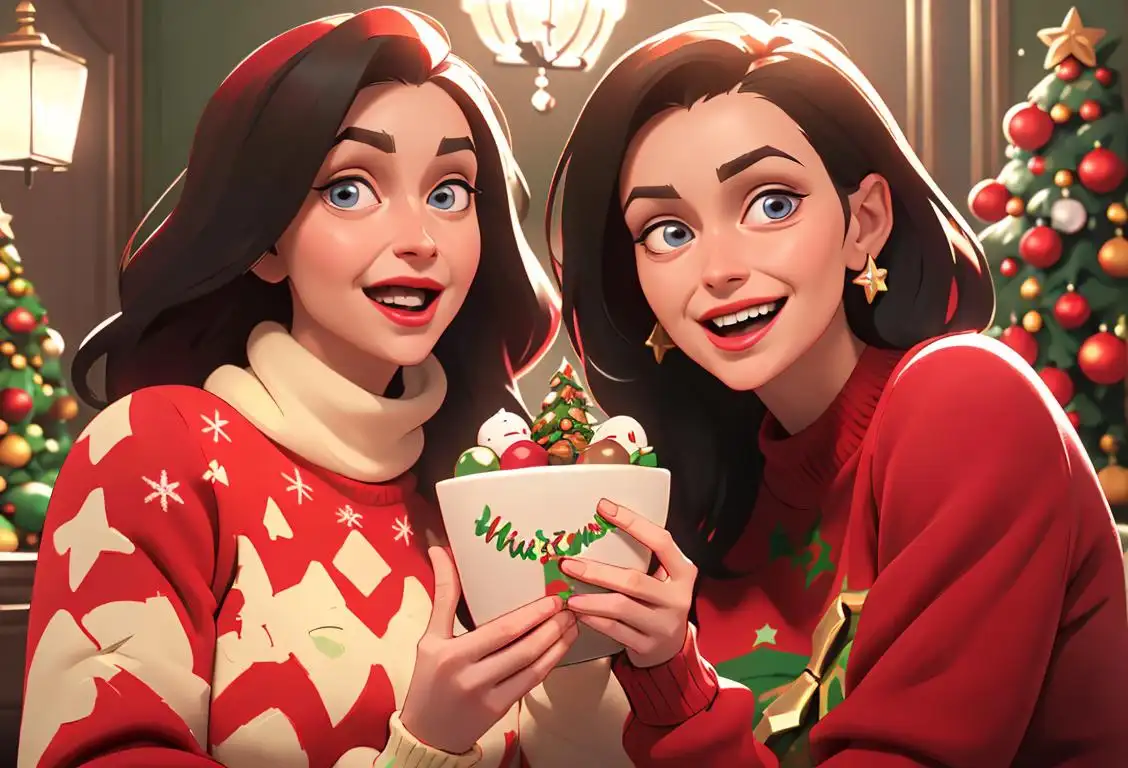 What happens when you mix the holiday cheer of Christmas with the fun and silliness of a cozy knit jumper? You get National Christmas Jumper Day! Whether adorned with reindeer, embellished with flashing lights, or just a tasteful Fair Isle pattern — festiveness is the name of the game on this day. So, dazzle in your jumper and let's celebrate the season in style!
When is Christmas Jumper Day?
It's national christmas jumper day on the 16th December.
A Brief History of National Christmas Jumper Day
Our story began on a chilly day of December in 2012 - the day the internet collectively decided to embrace their inner Christmas elf and celebrate National Christmas Jumper Day. Since then, statistics on our site show that the mentions of National Christmas Jumper Day reached a peak on 16 Dec 2016, with a whopping 3916 instances online! Now, this day can be found on class schedules and office memos worldwide.
Why the Hype?
It's not merely about the celebration of quirky jumpers. This day serves a broader purpose — to raise funds for the charity Save the Children. A little laugh for a good cause, it seems Christmas Jumper Day ticks all the boxes for a perfect holiday celebration!
Dressing Up for Christmas Jumper Day
For some, choosing the perfect jumper may seem an arduous task. Don't fret! Let your creativity run wild; the zanier the design, the better. Remember, on this day, the fashion police are off duty. So, hang those baubles, weave in those LED lights, and let's see those jumpers light up like a Christmas tree!
Share the Joy
Stand out but also stand together. Take selfies, form a Christmas jumper parade, or hold jumper contests. Share the fun online and use the power of the internet to spread the joy and keep this delightful tradition alive and kicking!
History behind the term 'Christmas Jumper'
1981
The Rise of the Christmas Jumper
In 1981, the term 'Christmas jumper' first came into prominence. It referred to a knitted sweater adorned with festive designs and patterns. Originally, this garment was often considered unfashionable and tacky, but it gradually gained popularity for its nostalgic and festive charm.
1989
Sitcoms Popularize the Christmas Jumper
During the late 1980s, sitcoms notably contributed to the rise of the Christmas jumper. In 1989, the popular British sitcom 'Only Fools and Horses' featured a character named Del Boy who frequently wore garish Christmas jumpers, becoming synonymous with the festive season. This portrayal added a humorous and endearing aspect to the Christmas jumper, making it more acceptable and even desirable.
2001
Bringing Joy with the 'Ugly Christmas Sweater' Trend
Around the early 2000s, a new term emerged - the 'Ugly Christmas Sweater.' This term separated itself from traditional fashion by embracing intentionally gaudy and over-the-top designs. Ugly Christmas Sweater parties gained popularity, where people would deliberately wear eccentric and outrageous jumpers to celebrate the holiday season in a lighthearted and fun way. The trend helped make Christmas jumpers a global phenomenon.
2011
Charitable Contributions Through Christmas Jumpers
In recent years, there has been a growing trend of companies, organizations, and individuals using Christmas jumpers to support charitable causes. Many people now buy or wear Christmas jumpers not only to spread joy but also to raise funds for various charities and initiatives. This has turned the humble Christmas jumper into a symbol of spreading holiday cheer and making a positive impact.