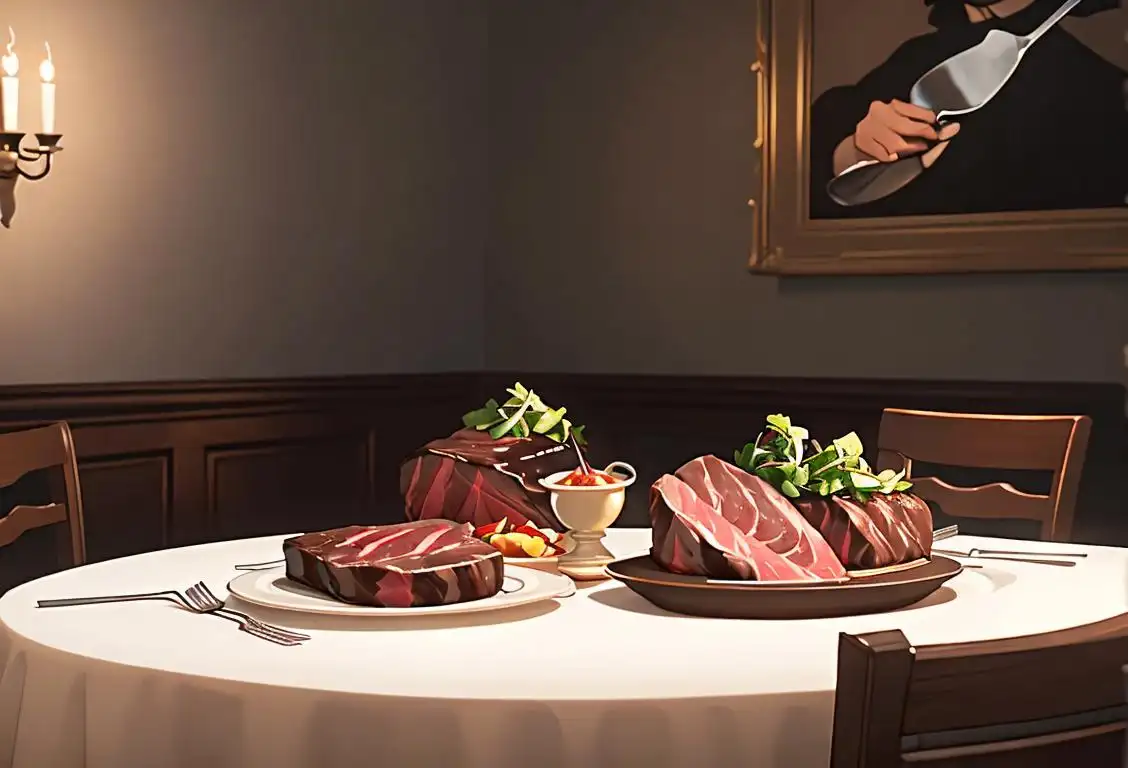 Get ready for a sizzling celebration that will surely tickle your funny bone and tantalize your taste buds. It's National Steak and Blowjob Day! This unique holiday, which falls on March 14th, showcases the perfect combination of two beloved activities: enjoying a juicy steak and receiving, well, a loving act of oral pleasure. So sit back, relax, and let us dive into the fascinating internet history of this extraordinary day!
When is Steak And Blowjob Day?
It's national steak and blowjob day on the 14th March.
The Origins of National Steak and Blowjob Day
Believe it or not, National Steak and Blowjob Day began as a satirical response to Valentine's Day. A man named Tom Birdsey created the holiday to provide a playful and humorous counterpart to the romantic expectations placed on men during February 14th.
The concept quickly spread across the internet, sparking debates and discussions about gender roles, relationship dynamics, and the importance of equal treatment within partnerships. While some viewed it as a lighthearted way to balance the equation, others criticized it for perpetuating stereotypes and trivializing intimate relationships.
Despite the controversy, National Steak and Blowjob Day gained traction year after year, creating a buzz not only online but also in social circles and the media. It became an occasion to embrace fun and adventure while sharing delicious food and intimate moments with a loved one.
Celebrating with Mouthwatering Steaks and Loving Acts
When it comes to celebrating National Steak and Blowjob Day, there are countless ways to make the most of this unique holiday. Let's start with the steaks!
Fire up the grill, visit your favorite steakhouse, or put your culinary skills to the test by preparing a mouthwatering steak at home. Whether you prefer a juicy T-bone, a tender filet mignon, or a flavorful ribeye, the key is to savor each delicious bite and celebrate the culinary masterpiece that is a perfectly cooked steak.
As for the other part of the equation, communication and consent are paramount. National Steak and Blowjob Day is all about celebrating love and intimacy in a consensual and fun way. Remember to prioritize open and honest conversations with your partner, ensuring that both of you are comfortable, enthusiastic, and ready to embark on a memorable evening.
Now, let's address the elephant in the room. While the name of the holiday may evoke cheeky giggles, it's essential to approach the topic with respect and maturity. It's important to emphasize that engaging in any intimate activities should always be a consensual and mutual decision, regardless of the day or occasion.
Did You Know?
Did you know that the most online mentions of National Steak and Blowjob Day were recorded on March 14, 2016? People were buzzing with excitement, sharing their plans, recipes, and humorous stories with fellow enthusiasts of this one-of-a-kind holiday!